Adobo Philippines Food Tours is an online booking platform that caters specifically for your own Filipino food cravings. To showcase the diverse culture of Filipino cuisine, we design exclusive food tours and cooking classes in various parts of the country with rich and flavorful origins.
The rich and diverse Filipino culture is reflected through our unique culinary traditions.
Filipino food has essentially evolved from a variety of influence over the years with recipes and styles tracing its roots to its Malayo-Polynesian origins and Hispanic influence from the Spanish colonial period. A touch of American, Chinese, and other Asian influences also bring a distinct taste that is reflected in our own cuisine.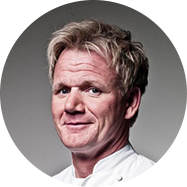 Cooking is about passion, so it may look slightly temperamental in a way that it's too assertive to the naked eye.
Gordon Ramsey

We aim to showcase the rich cultural heritage of the Philippines by introducing a different side of Filipino traditions through our taste buds. Adobo Philippines Food Tours will show precisely why our country is so keen on sharing the Filipino cuisine to the world.
We will take you on a journey across the Philippine archipelago with one delectable dish after another. We are known for our abundant seafood, the lechon (roast pig), sinigang (sour stew), pancit (fried noodles), and our world-famous pre-colonial staple, the adobo.
Each destination we feature has its own distinct dishes and methods of preparation that showcases the abundant culinary legacy of the Philippines.
Local cuisine often varies in our regions, and they have their own history and special recipes. We have handpicked the best and streamlined each tour to create the ultimate Filipino food experience that puts the spotlight in our sumptuous local dishes.
Who we are?
MEET OUR TEAM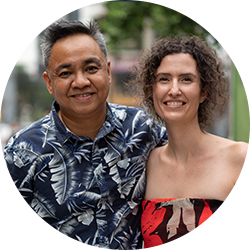 Anais & Junji 
Owners
Junji, a former Filipino Singer/ songwriter and producer, and Anais, a French financial analyst. Both shared a passion for travel and local food.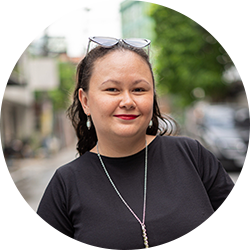 Janice 
Head of Operations